So, those of you still holding your breath, exhale! What's wrong with you?? I was just kidding! Don't you know how bad that is for you? Although, blue is a good look for you :)
I did get my painted pieces back! They are... good. The emblem on the gas tank es mue bueno! But, I am not going to show it to you! I have only been home when it is dark, and it will not look as good as it should till I get home and have time to take the pic before the sun goes down! I do have a sample of the color for you though :D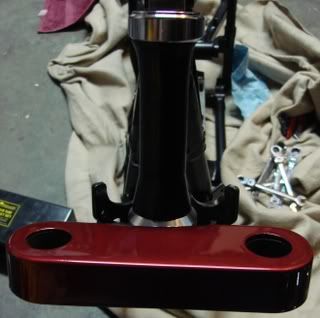 Painter, "my bike is SOO cool!"
Hubby, "fread not."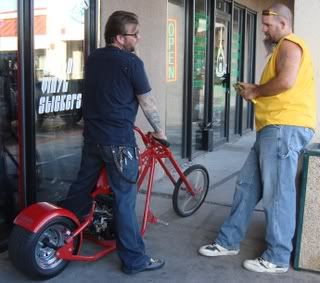 Painter, "see how cool I am.. you wanna ride it now don't you?"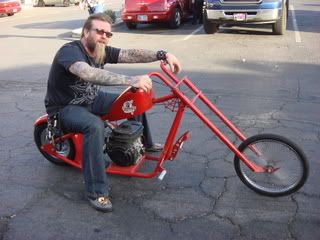 Hubby, "umm, no."
Anyways, after we picked up the paint Friday nigh, we brought home KFC, put the picnic table in the drive way, and ate while we stared at the front of my bike thinking about the possible reasons that my triple trees were not moving smoothly. We ended up calling our buddy and he was just leaving the shop, he appologized for forgeting about us the night before, and headed over.
He informed me that our little picnic was Harley heaven.. a big Harley emblem on the back wall, fried chicken, a bike to ride (hubby's), and a bike to work on (mine). hahaha I assured him that in my version, both bikes were to ride!
So, it took him about 2 sec to see our problem (fresh eyes are always good). It doesn't hurt that he has installed a few of these in the past, he pointed out that there was some casting on the frame that had not been trimmed off back in 76, and it was not allowing the after market cup to sit flat in the neck. This tilt caused the rubbing and general no buenoness of my triple trees. I did not get a pic before my hubby ground it down, but here it is after,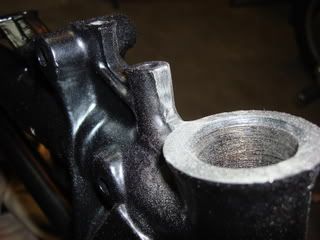 and now it sits flat,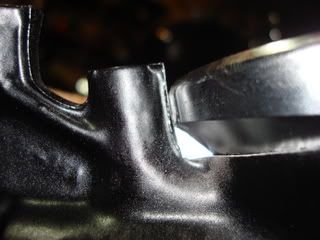 Here is a quick helper.
green points to the neck cups,
pinkish points to the neck,
and the yellow is the triple tree, actually in this pic it is the painted cover that goes over the triple tree, but you get the idea :D
Here is a video for ya..
and, that would be my hubby saying "buddah" yiddish meaning, "as smooth as butter" hahaha!
Here are a couple of rat rods that were sitting outside that tattoo parlour for your viewing pleasure!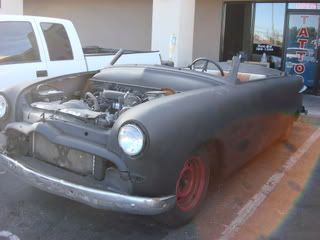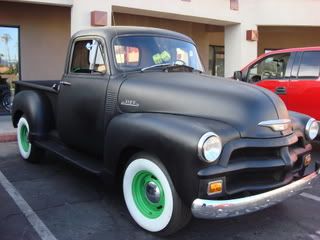 Saterday, one of my hubby's buddies came over and helped him install the swamp cooler in the wall of our garage!!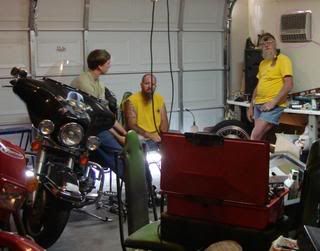 Thank you!! That will definately help the bike get done! Especially since it is supposed to be over 110 for atleast the rest of the week!!
While they were doing that, I took the middle child to get her contacts! She was so excited I thought she was going to kiss the doctor, it didn't help that he was very tall and cute and she is a teenage girl, so she can't stop flirting to save her life.. anyways! She is happy, that means that everyone else is allowed to be happy, so for now, yea!
With our morning obligations done at our house, we moved on to helping our friend's get their back yard ready for the 4th of July party!
I think that you have (until now) been safe from my artsie fartsie pics of flowers, but that, my dear friends, is about to end..
BRING ON THE FLOWERS!!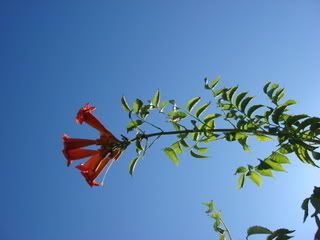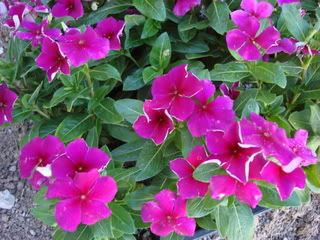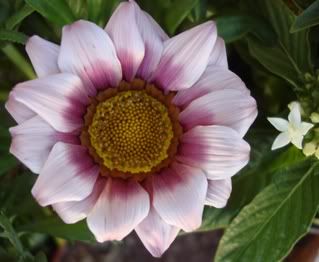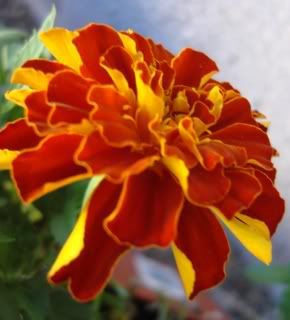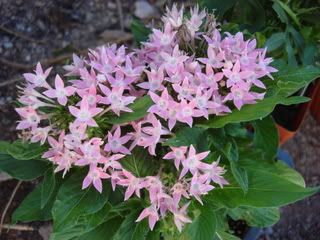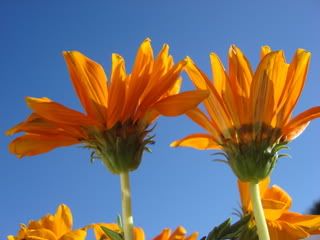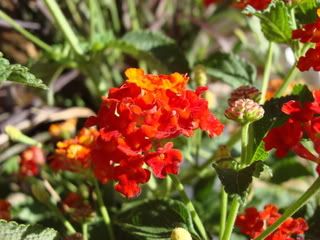 I usually add a wind chime to her collection, but I did not think of it soon enough, and only had time to stop at one store. The selection was limited and I did not like any of them, so I got her this pretty dragonfly instead.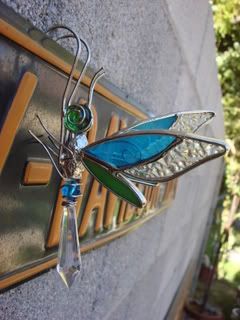 I will end this artsie flower show with a very pretty metal one.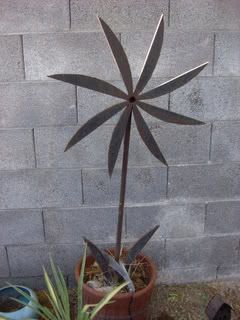 Then Sunday came... we spent the whole day in the car! We took my son to CA to spend the 4th with his girlfriend. Yes, that took all day! No, I did not think to take any pics :(
So, I have to sell fireworks for the football boosters this afternoon, and tomorrow afternoon before cc, so I might be a little late, but I will be there!
Late :D
ps. thank you for your comments :D now I'm going to go read ya'lls posts!