So, I took my camera to cc last night! We had a small yet prolific group, it was nice.
Mindy was there..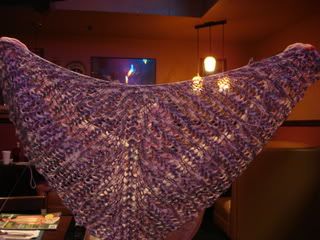 which was really good, cause I haven't seen her in like forever!
Jamie only has a few more weeks with us.. :(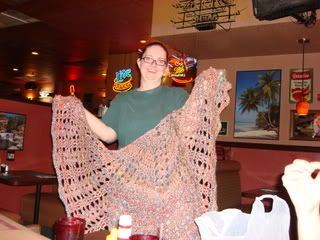 But she brought this great blankie that she made when she was 12 I think..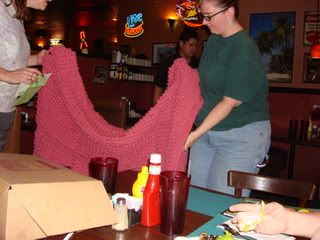 beautiful! (I didn't finish my first full size blankie until I was 26ish!)
Here's Tina's Seraphina..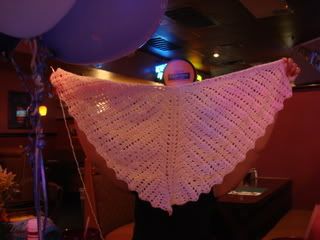 nice yarn choice!
Of course, since I remembered Tina's name, I couldn't remember this lady's name..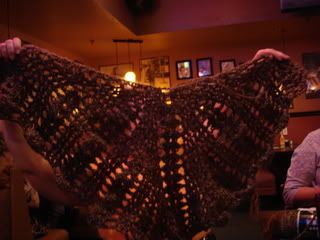 but her Saraphina is moving right along!
Sandy is working on a 63 square afgahn in three shades of blue..
this is little guy #4. She was also picking up a new trick, a pink and yellow reversable swatch made using a cro-hook that I took a picture of, but apparently I didn't load it into photobucket :(
Angie is assembling another comfort-gahn for charity :D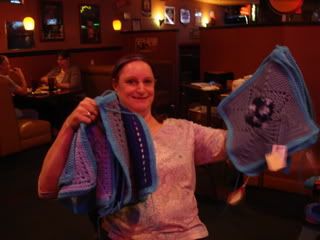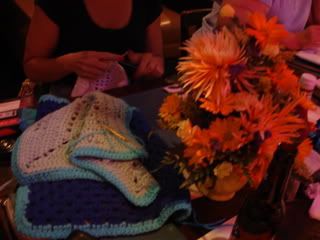 the squares are great, but the one she added to the mix IS the best, one of Sandy's donated squares is in there also, very nice!
We'll finish the cc pics with one more of Mindy's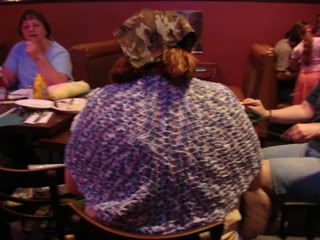 cause I like the yarn, and her pigtails, and a pic of the blankie I was working on.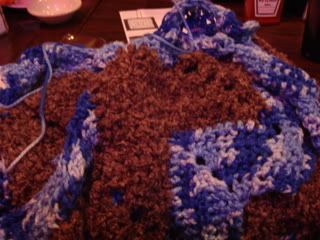 It was brought to my attention last night, that I have not posted any pics of my puppies! What a bad Mommy I am!
This is Schidgy (she came with the name)
She is 8ish. She's a blue healer, very smart dogs! I recomend them to anyone that doesn't have small children, they are born trying to herd things, so they try to keep everyone together, and can get kinda snippy. Very good for keeping the kids on the couch though.. "take a leg" and "get the kitty" are her favorite words.
The biggest Coco..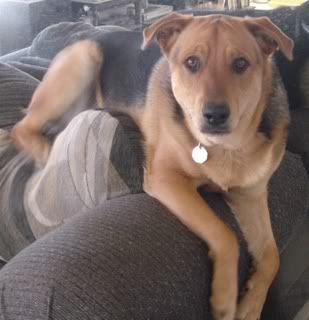 She is 3. We got here from Lied Animal Shelter, they labeled her a Rotweiller, but she has obvious signs of sheppard. She does not know her own size! She's a pretty good dog.. she LOVES little kids and plays really well with my baby..Emma (named after Ross and Rachele's baby.. yes I'm a Friends geek!)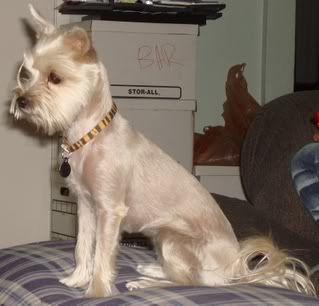 She is the sweetest little crazy dog of them all! She is a 2 year old, half Malteese, half Yorkie. This mix has become a recognized breed of its own now, but I can not remember what it is. She is the only one that will play fetch.. she loves fries, and hates short humans.. including kids, Bucky, and Frank! hahahaha
Before I went to cc, the hubby and I went to Cecil's to get some bike parts :D !!!
These are the chrome split oil lines..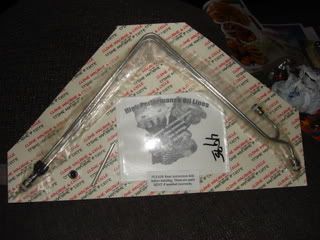 they deliver oil to both heads at the same time. The stock oil system sends oil to the rear head which has to fill-up and over flow into the front head. This "new" way keeps the motor cooler, very important in the blow drier, I mean in Vegas.
We also got the rest of the bolts to put the motor together..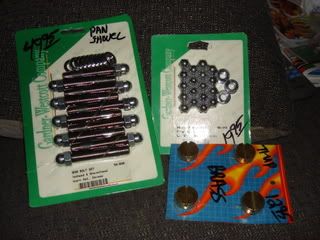 these chrome acorn nuts will look really good since the whole motor is flat black :D
I also found some rocker arm bolts that are BRASS!! They match the pretty covers that I bought a couple monthes ago. Sweet!
Here are the bolts and dust covers that we actually went to Cecil's for ahahhaha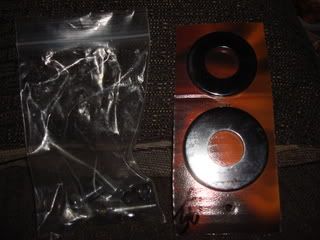 This is all we needed to get the frame to the point of "rolling chasis". Rock ON!
Hopefully I will have pictures of the pretty paint job to show you tonight! but I'm not holding my breath.
Late