So, its my middle daughters birthday, she is 17! WOO HOO! We went to Lone Star for dinner.. mmmm! My son went to the bathroom just as we were getting up to leave, so we ran out to the car and started to pull out.. he came running up to the car, and he was like "nnoooo don't leave me again!!" all dramatic like! hahaha everyone in the parking lot, and all the waitress were laughing at us. I was laughing so hard.. I had to re-park the car cause I couldn't breath!
Anywho, I got alot of work done on my main bathroom on Saterday!!! woo hoo!
I didn't tell my hubby what I was doing work on, I just told him that I was going to drastically change something, he was convinced that I painted "his" fireplace all weekend! He was very happy to see that his brick is still unpainted.. so far haha!
So, I still need to do something with the floor, install the door, touch up some paint, and replace the light switch and electrical plug, but for now, lets move right long to the pics..
Here is the toilet in the hall.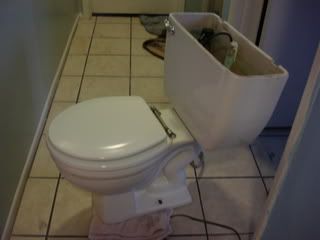 Too funny, had to take a pic.
Here's the old torn up door, did I mention my house spent the first 32 years of its life as a rental?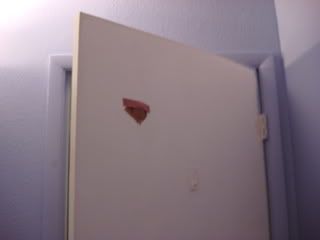 How many colors has this bathroom been?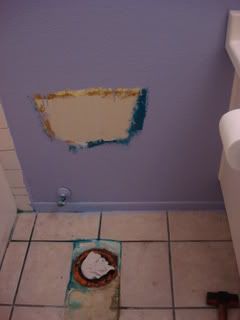 Margie 28ish - tile 0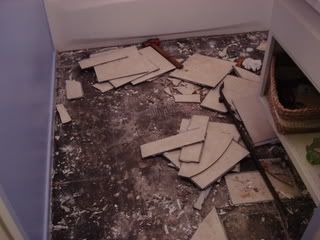 I even tore off all the old molding!
Toilet no leaky!!! yeah!!! I was so nervous about taking it out to remove the tile, but it had to be done to do the floor right.. but its all good! Its alot easier than you would think!
Like my wainscoating?
Here's the new door frame :D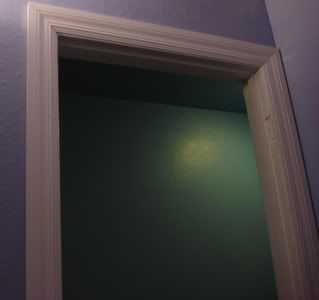 I cut a whole in the wall..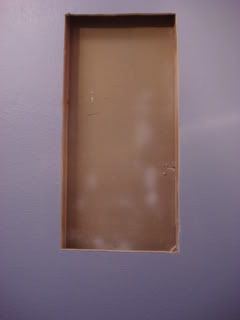 to make some built in shelves. The bathrooms are so small, they are both getting this up-grade!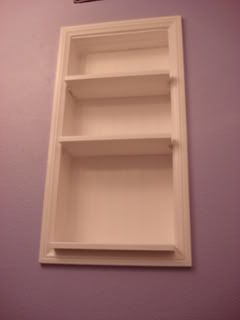 They didn't turn out too bad for a beginner! I learned some valuable lessons for the built ins that are going to go into the master bathroom :D haha
And, here is the crown molding..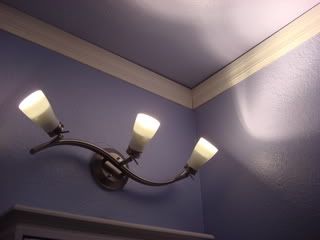 This is the corner that worked! hahaha I will need to do some more work on the other corner, that is the light fixture that I installed before we moved in :D I have one like it for the master bath, but since it has not been painted yet, it has not been installed.
I cleaned and etched the floor, but it did not get as pretty as I hoped it would :( I think that I am going to have to go with a couple different shades of stain to cover it nicely.. I have to get something figured out before I can tear up the rest of the old ugly tile with the "I hope its supposed to be that dark, cause other wise that's grose" grout!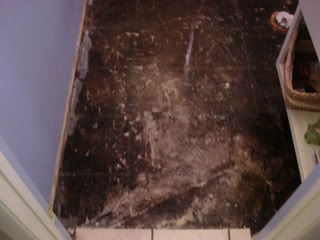 On Sunday, the wife of the guy that my hubby was out of town with, invited me to come over and hang in the pool, we had a cook out, it was very nice. I would like to say.. "Thanks for the VERY yummy steak!", Now I will send her a link to here so she can read that hahahahaha!
OH.. and my bestest friend back in IL has jumped on my "go to the gym" band wagon!!!
She is doing
very
well!! Rock on!! "why" indeed!
And now I'm all caught up!! Sweet! I'm going to go pack my gym bag and go to bed!
Late :D
PS. 41 people have been here!??! I think it must be counting some of you 2 or 3 times or something!! If you have time post a comment so I can see how many of you there really are :D Sweet!!