So, I just realized there is a spell checker on here!! :D Doesn't something about "insecurities" look wrong? I thought so too, but apparently that's how it goes..
Anyways.. just so you know, no matter what size your wet suit is, there is absolutely no room for insecurities in it! You wouldn't believe how quietly the
boys
in my class were saying the size they needed in the X-
tra
thick suits! Come on!!
The way I see it, if they couldn't tell that I was fat before they saw me in a wet suit, then the problem does not lie with my butt, but maybe with their eyes..!
hahhaha
What brings this up?? I am in adv. SCUBA training for the rest of the week!! I love my job! ~ sometimes I get to spend all day Thurs. (tomorrow) and Fri. at Lake Mead SCUBA diving! I love it!
We are doing a couple shore dives tomorrow, and then Friday we are out on a dive boat. I'm a little nervous about the deep dive, but I trust our instructors, all will be good!
I'm debating
wither
or not to take my camera. Hey, maybe my boss will let me take the one my department has for pool pics... :)
water proof case!
I could even get some pics
in the water
!!! Oh, I hope he is cool with that!!
Speaking of pics, I have some for ya from last weekend.
The weekend started with football.

My son's team ended up winning the tournament.. woo
hoo
!!!!
I just found out today that there is another tourney this weekend :D Right ON!
The rest of the weekend was spent swimming, (as if I don't get enough of that at work).
For any of you that have never had a chance to hang out with bikers, here is a rare glimpse of a biker b-day/ pool party.. I've never seen so many fully clothed people in a pool.... on purpose that is, well.... most of them were in on purpose
hahahhaa
. My hubby does not like to swim alone
apparently
:D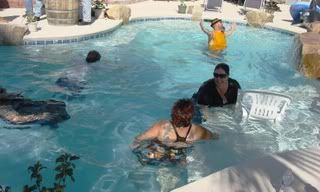 This pool and backyard is great!!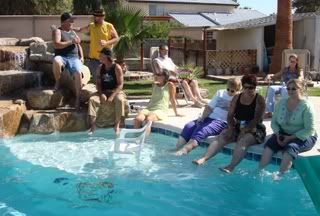 The birthday girl designed it.. she owns a company that designs pools and ponds and anything else you could want in your backyard when you live in the middle of the desert!!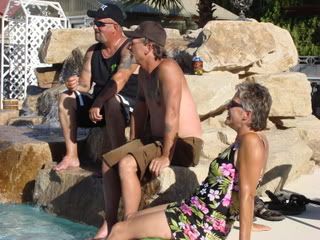 Look at this water fall!!! :D Too much fun!
There was a band..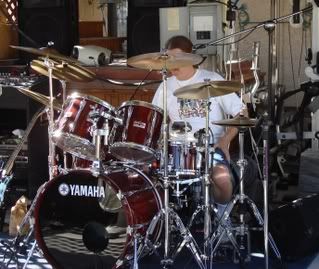 and some dry people..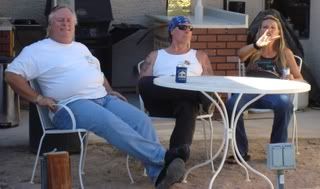 and of course, some bikes :D...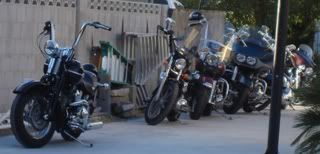 We had so much fun, we ended coming back on Sunday night with a different group of friends after
Chickenbone's
surprise b-day Pizza 'n Cake at the newly re-opened Chicago Inn...
The "CI" is a long time hang out of mine, but it was burnt down by
Eggroll
Express.. who made the BEST crab
rangoon
ever! (They were not included on the rebuild) But finally, after like 2 years, the CI is back, and very nicely done I must say!
All of their Chicago
memorabilia
burnt in the fire though :( Next time I go home, I will have to bring them something back to hang on their wall :D!!
Well, I need to be well rested for my day at the beach tomorrow!!
Hahaha
suckers that have to go work.... don't be too jealous, I do have to spend
a lot
of time out of the water in the 110 degrees.... I'll try to get some pics some how.
Late
ps.
fyi, if you have pics linked to your blog, and you run spell check, it messes up the links and you have to redue them!!
g-night :D