So,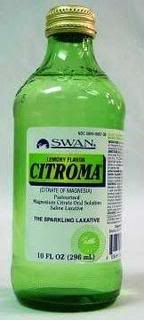 yep that's it right there.
If you've ever had the need for this lovely beverage, I'm sorry.
I have a few questions for ya...
Does it work better than the chocolate laxative?
Does it work better than Apple juice?
Does it tickle your nose like champagne?
Does it need to sparkle or is that the work of a marketing genius?
Does it make your business shiny?
Does it have to taste like crap or is that just a psychological thing to get your subconscious on the same page?
Just wondering.
Anyways, I am still a little sick but, I made it to yoga and Crochet Club last night!
Why yoga you ask? Well, I think I'm a pretty laid back person, but physically, I'm always tense. I actually have to concentrate to relax!?! Anyone else?
Also, my gym has a yoga class right before cc at the location that is in the same parking lot as cc!! I know!
(climbing on soap box)
Too many people rush through the week complaining till the weekend, then whine that time goes by too fast!? Come on people, take advantage of every day! Do stuff after work.. something, anything you enjoy don't save it up for the weekends! :)
(OK, stepping off the soap box!)
Oh.. Tuesday nights. I go to yoga and concentrate on breathing and relaxing for an hour, then I go hang out with an ever increasing number of women at a bar and eat, drink, knit, crochet, and laugh for like 2 or 3 more hours! Somebody's gotta do it. Thursday night is knit night.. same as above only without the yoga.
For those of you that sat at home all sad cause it was only Tuesday, I'm going to share some of my Tuesday night with you.. (no yoga pics though, the flash would mess up everyone's chi)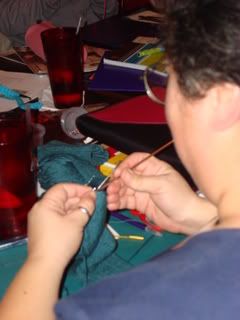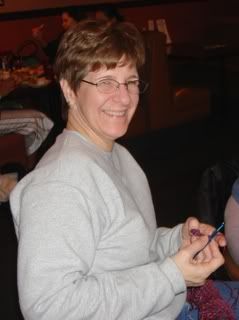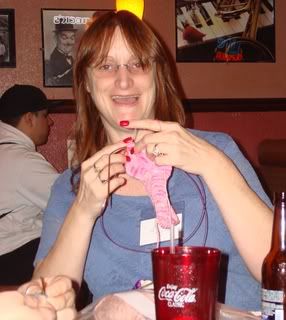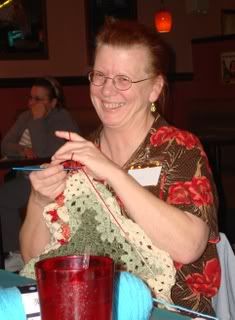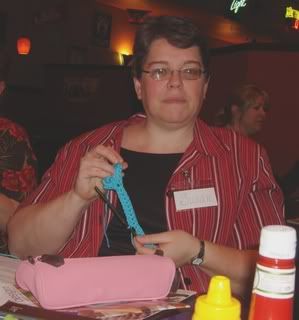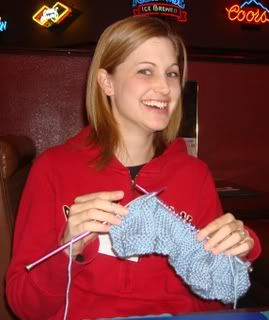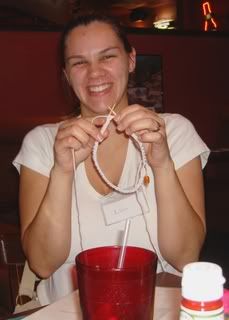 And of course, its all about the socks!!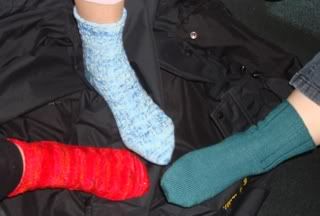 I'm not sure if you can tell, but my camera does not like Jitterbug "fire". Green.. ok, blue... ok, red...AGH!!!
Here are a few more examples of how much my camera hates this color..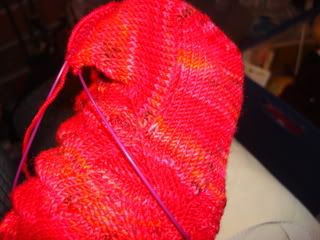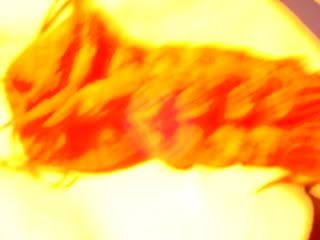 I finally convinced my camera that we were on a bright sunny beach, and it agreed to take a couple decent pics.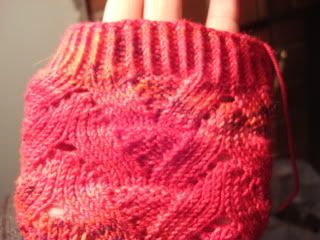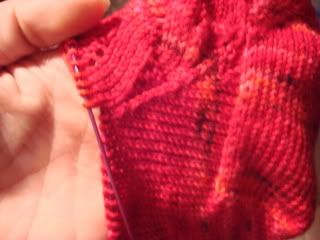 The true color of these socks is somewhere in between there! :)
Well, I hope you enjoyed my Tuesday night pics, but don't live vicariously... go enjoy!
Late