So, this is post
100
!!!!
I have been wanting all week to post, I didn't want to waste the 100th episode on:
so umm hi late.
We'll start by looking back.
A couple months ago
, I became a rescue diver. One of the requirements for rescue is that you have to be an advanced scuba diver, to become an advanced scuba diver, you have to do "specialty" dives, and one of the specialties I chose was underwater photography!
I promised you pics back then, but never got around to posting them.
(sorry)
Here are some of the pics that I took that day:
This is my dive master/trainer person Anner!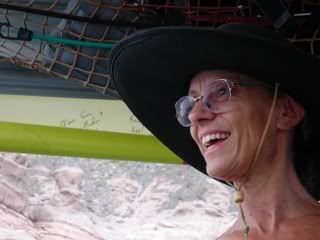 No one ever looks good from this angle,
it must be my ausome powers of camera operatoring!
(yeah, that's it hahaha)
This is Captain Mike.
What a gig!
And here is my dive buddy Cody.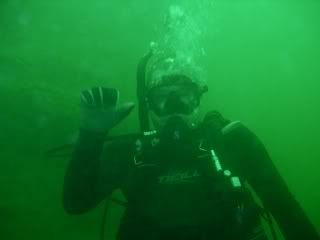 He saved my life on a previous dive!
Like totally for real!
He transfered to Macau, China to work on the new Cirque show that they are developing for the Venetian Macau.
This catfish was just swimming around watching us..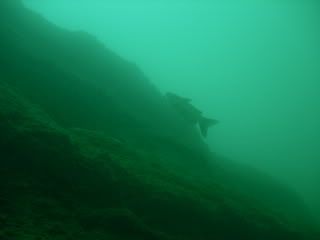 he hung out for a long time, so I took like a zillion pics of him, but I'll spare you..
Here's Anner watching my technique. :)
There is a really bad infestation going on at Lake Mead.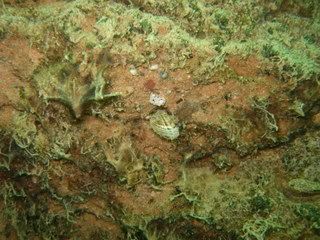 These are zebra muscles.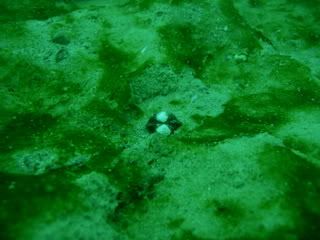 Bad news for the lake.. but easy to photograph.
This is a mooring.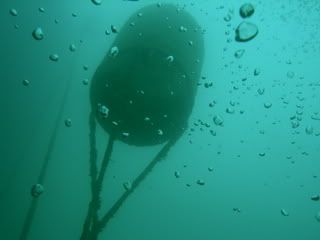 Divers and boaters set them up to have places to tie off their boats.
The lake used to be just a valley, sothe bottom is very deep. Just dropping anchor is not always so easy.
This activity is illegal in federal parks, don't get caught!
It was very "bad" weather for the desert,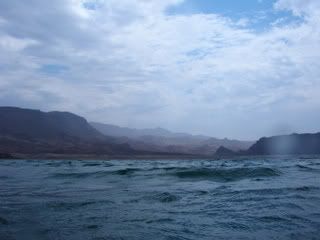 but since we were already wet, we didn't let it bother us.
This is the "batch plant".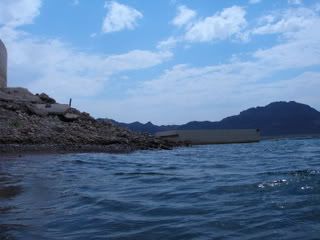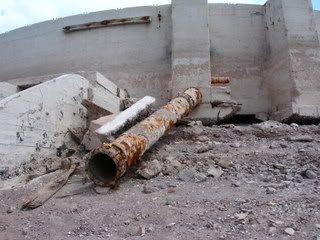 With Anner standing on it...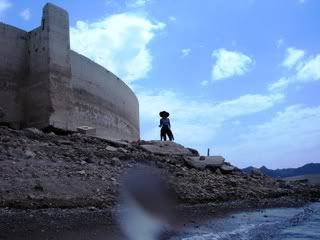 They built this during the damn days. (hahah) It was used to wash gravel before it was sent to the cement mixers.
Not too long ago this whole thing, island and all, was 102 feet under water!
Now instead of being a good dive,
it is a good hike. :(
There are still cool parts and pieces underwater though.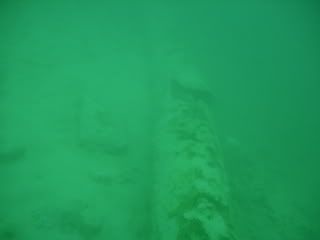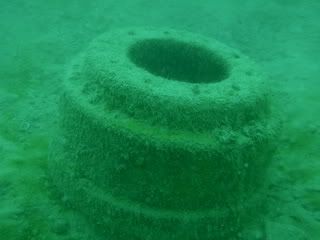 And more fishy pics :)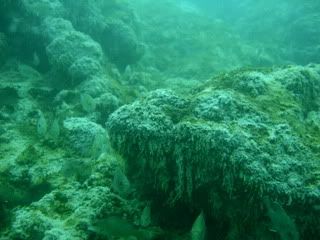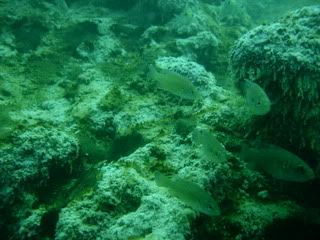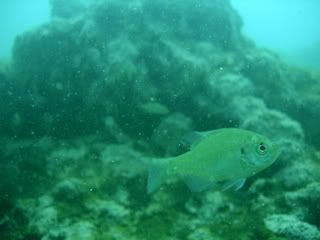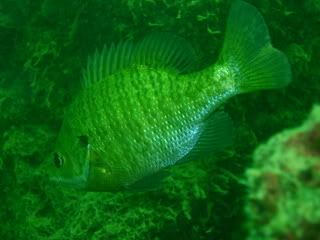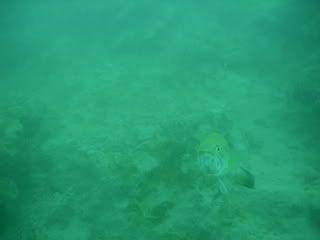 And somethings that "fell" off boats...
FORE!!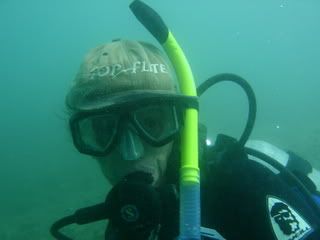 Ok, now for the more recent past...
aka, last weekend!
Friday
, my son's football team lost the first game of the play offs :(
Most of the players were Seniors, and they had a really strong 2nd half, so the end was a pretty emotional. They just ran out of time.
Proud parents..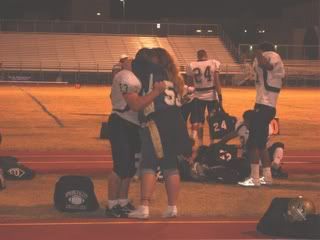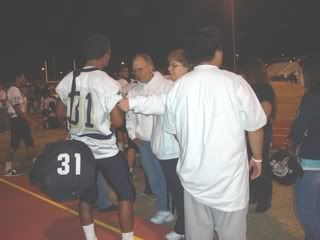 Friendships forged during years on the battle field..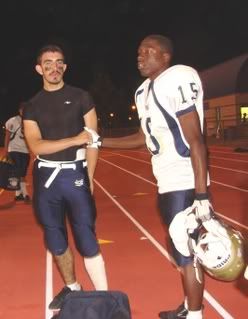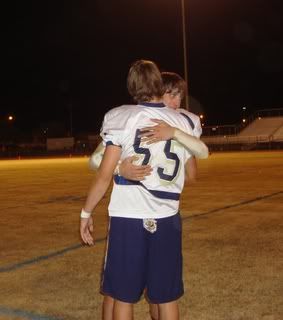 And great athlets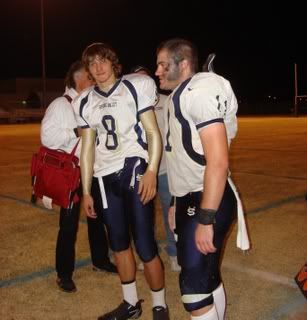 that will be on opposite sides of the ball next time they meet on the field.
Alot of tears were shed.
It was truely moving to see all these big tough guys showing so much emotion.
Go GRIZ!
See ya'll at the football banquet.
(I'll still have my camera.. so wash your face... and comb your hair!)
Saturday
..
tattoo day!!
This whole thing started as a Showgirlz Tattoo day, but the
girlz
are not big on RSVPing, so I extended the invitation to my cc, my mc, and my sister-in-laws!
The turn out ended up being wonderful, a full day for all 3 artists!!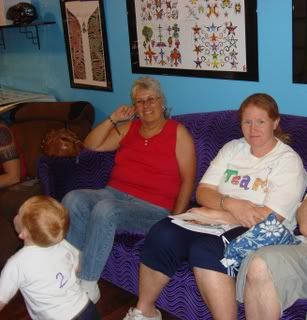 I love this pic..
(my camera did not like the lighting and tattoo gu.. I'm sorry)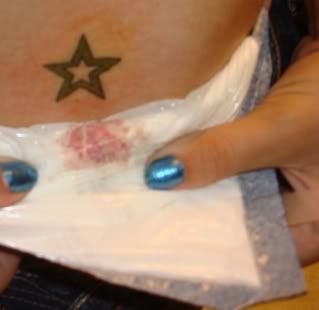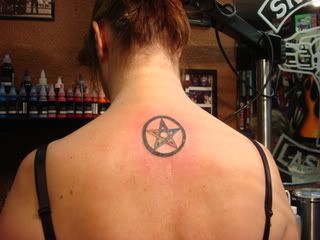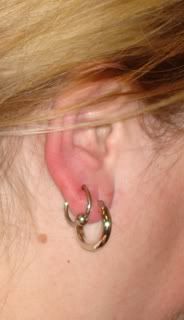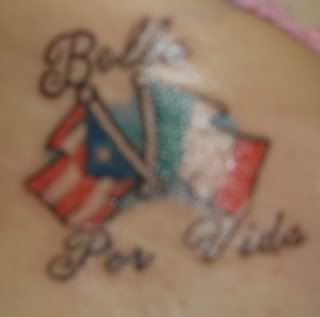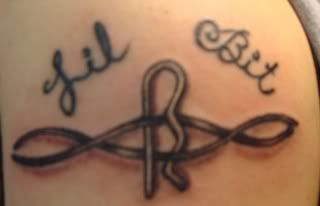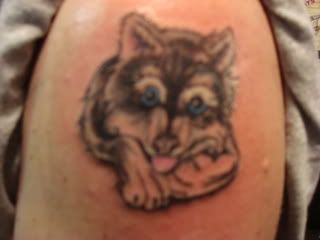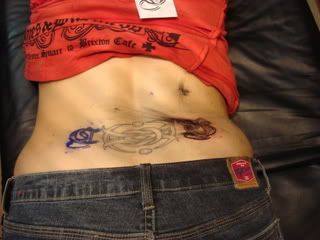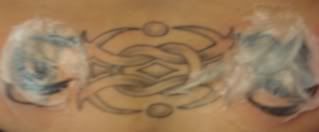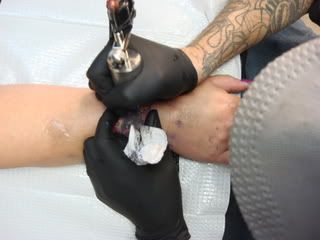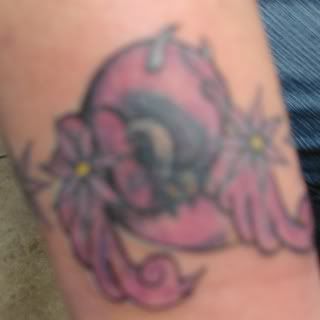 These guys are real artists..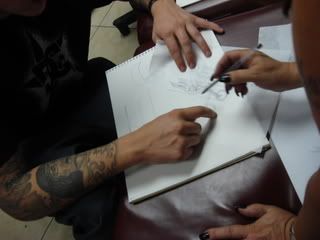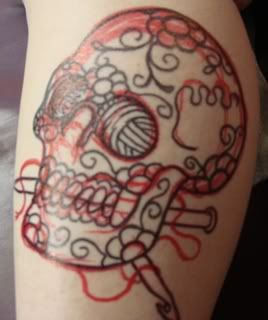 That's sharpie on my leg folks..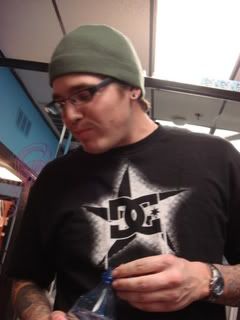 that's how Matt @ INK Inc. rolls baby!!
By the time it was over, the guys were ready to go party!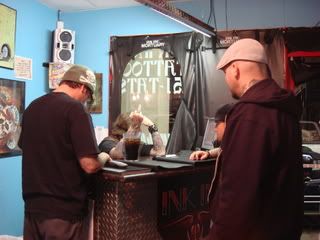 Or go to sleep..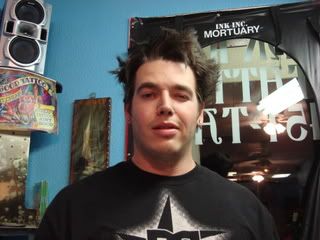 You know.. whichever.
Here are a couple pics of my tattoo in progress..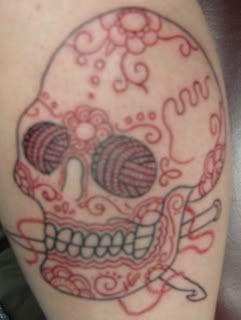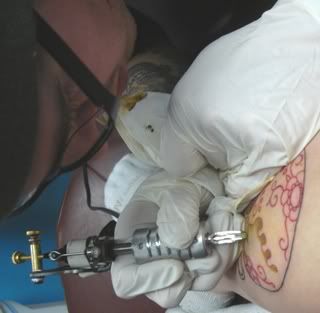 and a better one of when it just got done.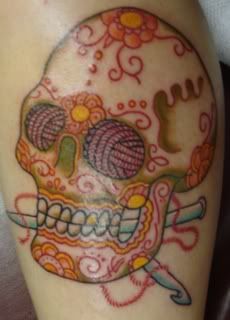 I'm gonna go ahead and throw in a couple old tattoo pics..
my still not so sleavy sleave.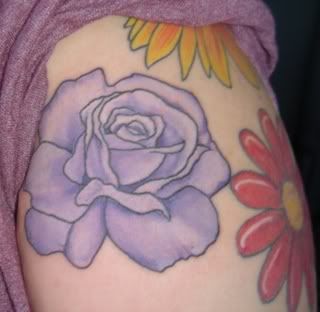 And Anna's butterfly.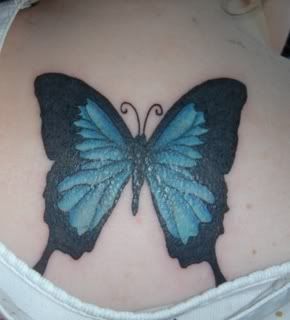 Sunday
, I left my camera at home, so you don't have to see a bunch of pictures of the candle party that I was at.
But I do have knit pics.. hahaha
This is my son in my hubby's biker santa hat!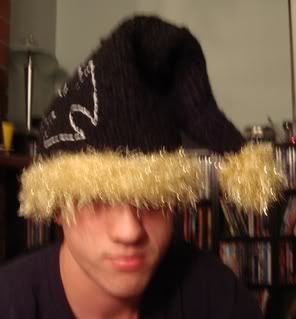 Yeah, so, I restarted the red hat sock and the red was traveling around in a real cool spiral thing, and then..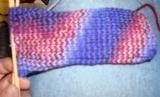 it started going straight.. ??
I wanted to keep knitting last night to see how it ended up, but it got to be way too late :(
Grr... x-mas is getting way too close for this people!! I'm not sure what I'm going to do with it yet.
This weekend, my son goes for his driving test, the red hats are having a function, one of my sisters is racing her drag bike at the speedway, there are a couple bike things (including THE Turkey Run on Sunday), and I need to knit!
Late