So, I finally emptied the memory card on my camera. It seems to be working just fine since it got back from Sony :D woo hoo!!
I was going to post the pictures in chronological order, but then I would have to go back and forth from folder to folder and I'm too lazy for that, so your going to get them by topic.
We'll save the yarn stuff for last and start with my trip to Florida!!
It seemed like no matter which direction we left base, we were on a bridge.
Very long bridges in every direction.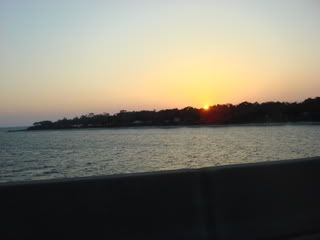 As most of you know, I was in Florida for my daughter's EOD graduation! Here is my lovely daughter without her "crab" for the last time!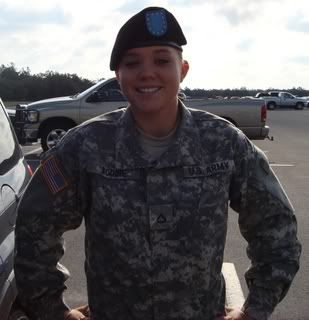 We got to the school a little early
so we could mingle with the rest of the graduates and their families.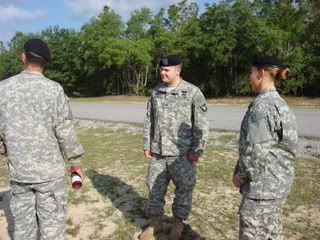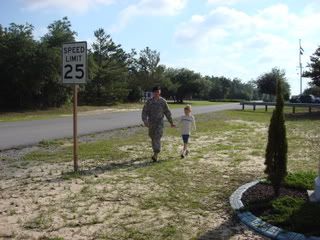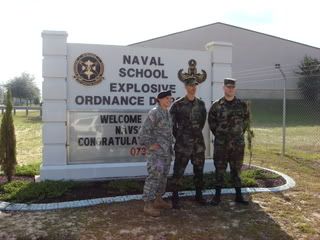 The ceremony was held at the EOD memorial across the street from the school.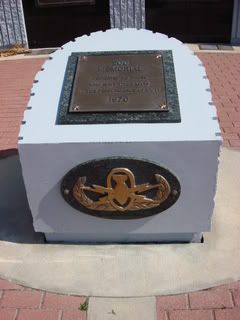 This school trains all of the EOD techs for all four branches of the military. The size of the class shows just how elite this field is.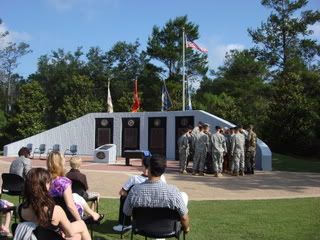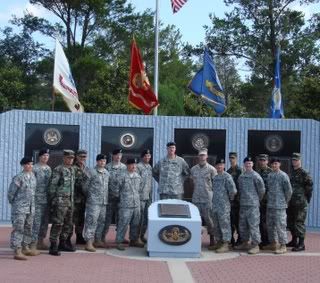 That's all of them! There were no Navy guys, one Marine (just right of center), and the rest were about half Air Force (dark camo) and half Army (light camo w/ berets).
The only woman was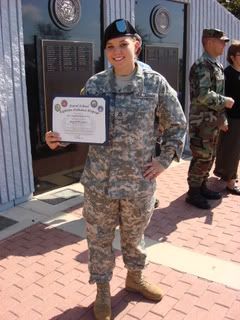 Nikki of course!! :)
We toured the school, she said goodbye to her teachers, and just like that.. she's and offical EOD technician.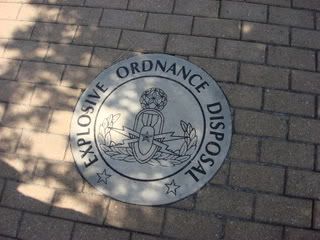 After graduation we headed to the beach for lunch with one of her classmates and his family.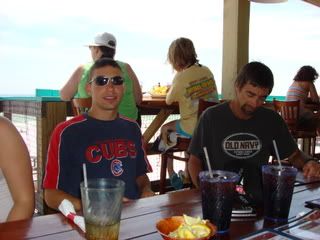 The were from IL. Very nice! ;)
The view from our table.. also Very nice!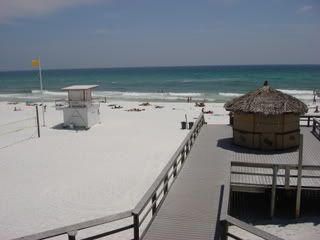 We swam for a little while, but the waves were pretty big, so we went to a little yarn shop called Unwind. They were very nice to us inspite of the fact that we were still wet and looked very beach touristy! I forgot my camera in the car!! :(
We looked at possible yarns for the baby.. this green if its a boy, this is cute if its a girl. I think the ladies were more than a little confused when Nikki kept looking at her still very flat belly and asking, "what are you?" hahahaa
Luckily for me, the very helpful lady sitting at the counter was logged on to Ravelry. She looked in my queue and found out how much, and what weight of yarn I needed for a sweater I plan to make for my daughter.
Oh Ravelry.. what did we do before you?
Nikki picked out the colors, we got a wool/ acrylic blend, its very soft and a little shiny in burgandy and black, and of course, we got some yarn for socks. She picked a very pretty cotton blend worsted weight. It will make very warm socks, which is great since she is stationed in NC where I think they have winter. Since we were supposed to leave the next day, we called it a night and left the shop in the calm quiet that we had found it in.
The next morning, she went to the doctor to get her medical release, and found that they had decided that she was not going to be able to leave yet :(
The road trip was canceled. :(
She didn't feel very well most of my visit, so I spent most of the week in a hotel room on base. But it was really nice spending time with her and I'm glad I was there. I got the little A-line dress for my niece done too :) (the pic will be posted when I get to the yarn stuff :)
My last day there, we went to Panama City. I couldn't resist one more lunch on the beach!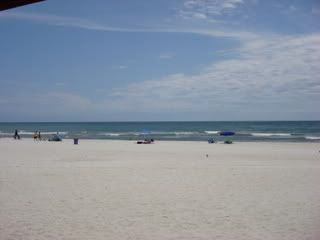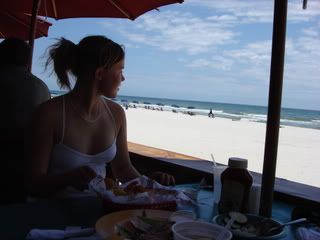 This sign says it all..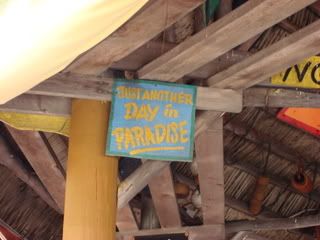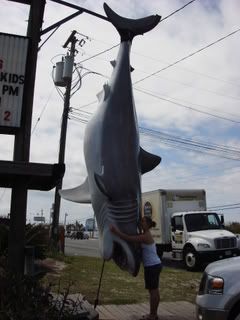 We went to the Ripley's Believe it or Not museum. Here's a little fiber for ya..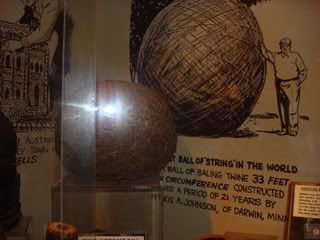 Get out the sheers, I want a unicorn sweater!!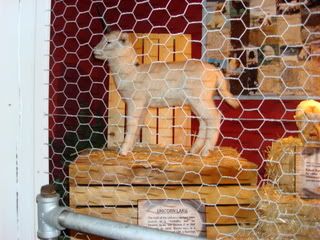 The biker in me couldn't help but get a pic of the ancient brass knuckles!!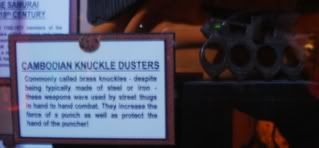 Then we went to the mall so I could get started on being the favorite grandma!!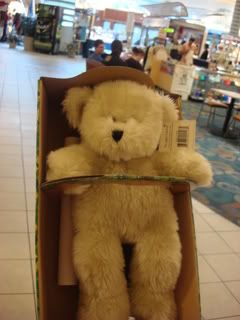 My flight each way had long layovers in Atlanta. I ate lunch alone at TGIFridays on the way there, it wasn't that bad, but ya can't really knit while you are eating, so it was boring.
On the way home, there was a Chili's in my terminal, so I got in the long line, and when the hostess led me to a table for two next to another woman about my age drinking a tall beer waiting for her lunch alone at a table for two, I asked if she minded if I sat with her.
She looked like the kinda person that would be up for talking to strangers! I was right! She said, "yeah.. have a seat."
We had a pleasant conversation over a good meal, and then I made her hold my knitting hahahaha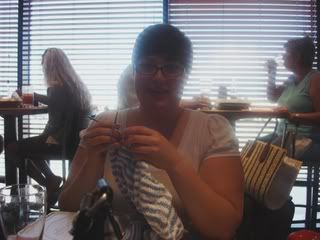 She was a great sport, and I think I wrote her name on my pattern, which is lost in my stash room now, so I'll just say thank you, and I hope your new job in LA is going well.
Opps I almost forgot the alligators that were in one of the surf shops we went into!!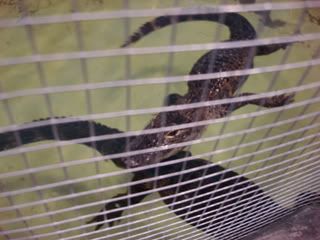 Now, on to the yarn!!
The week before I left, I took my camera to cc. I got some pics of what the ladies are making with the yarn I dyed!!
Here is Angie's sock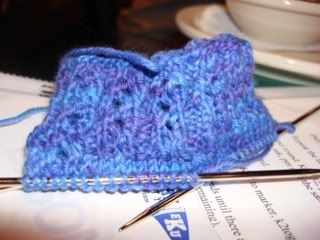 in Astronomical.
Here is Mindy's scarf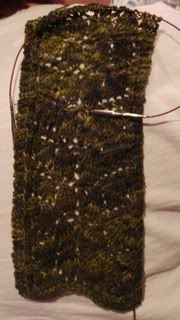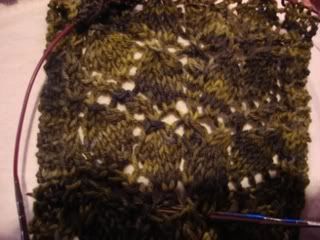 in Weeping Willow.
And here is Mayme's scarf

in Phoenix.
Ladies.. your beautiful projects are making me look good! hahaha
I'm glad that I took my camera that night, cause I got one last pic of Lisa's new baby while she was still on the inside!! hahaha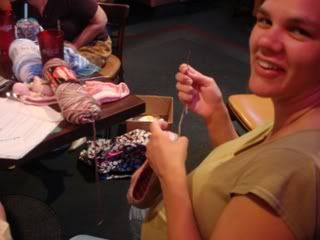 Now, as I told you yesterday, I sacraficed timely blogging to finish up some projects. Here they are..
Jeni's blankie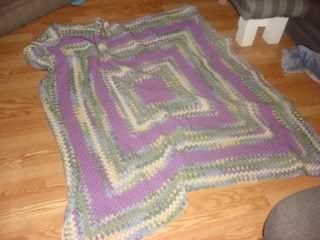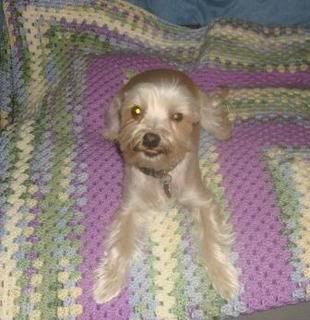 Emma's seal of approval :)
Brie's dress (one of them)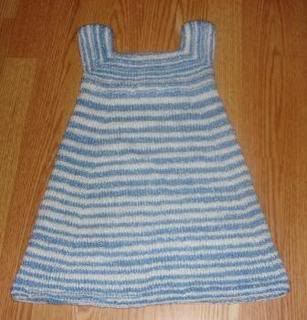 and Jul's socks done just in time!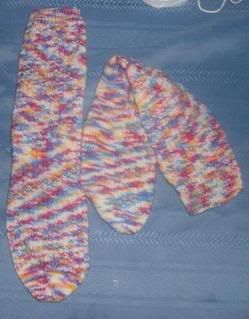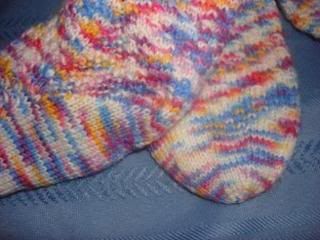 (new gusset style!)
I also finished a My So Called Scarf, but I haven't tucked the tails, so there is no done pic yet.
I left for cc last night with no pattern, no yarn, and nothing on the needles!! I know.
I stopped by Nancy's Quilt shop for inspiration, and left with some beautiful hand dyed superwash sock yarn, but still no pattern.. I tinkered around with gauge swatches, and actually cast on two at a time Monkey's, but I changed my mind and pulled it out.
I think I'm going to make the next seestor a tank top in red, white, and blue and save this yarn for something for my niece.. or maybe grandbaby!
Well, I'm outta here for now. I hope you enjoyed the pictures ;)
Late